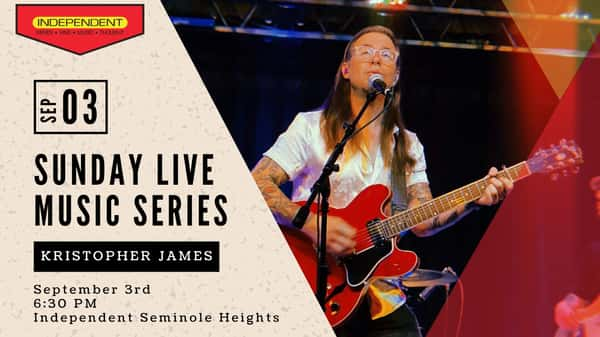 Sunday Live Music Series: Kristopher James
Join us Sunday, September 3rd at 6:30pm for our weekly Sunday Live Music Series, this week featuring Kristopher James!
At a young age, Kristopher James had music inside of him. Sitting in the doorway of his room, with a radio and tape deck, Kristopher spent hours making mixtape after mixtape of songs that began to mold his young, musical mind. From Boys II Men's "cooleyhighharmony" to Garth Brooks' hits, Kristopher swam in the lyrics and melodies. His knack for music, matched with years of filling composition books with personal poetry, improvised lyrics, and dream-like short stories, Kristopher's calling was determined—to be a songwriter.
It wasn't until he sat behind a drum set, fueled by teenage angst, that Kristopher began his musician's journey. From there, he taught himself guitar, piano, and bravely - how to sing. What is seen now, on intimate stages, like the iconic Eddie's Attic in Decatur, Georgia, to theater stages, such as the Capitol Theater in Clearwater, Florida, is the concentrated influences and earnest emotional exposition that solidify Kristopher – as an Americana-Soul force to be encountered and experienced.
Shortly after becoming a father, Kristopher wrestled with the dualities of parenthood, and under the catharsis of writing, he penned) his first song —a 3 verse, 2 chorus, 1 bridge tune, that would breakdown the floodgates of his pent-up musical creativity. "My Heart Wasn't Ready", which became a breakout song, was the first of four to be written, recorded, and produced in the following weeks — his first EP "Movement," which also features the highly-praised "Runaways". Expounding as a songwriter, Kristopher garnered local acclaim, "His vocals are perfectly reined in to suit his range and his easy gift for melody is unrivaled in the Bay area singer-songwriter space," (Creative Loathing Tampa 2017). It was at this support from the Florida musical community that pushed Kristopher to dive back into the studio for his second EP "Find Me"—featuring the titular track, as well as songs like the moody "Fire & the Fuse," the anguished "Heart Shaped Grave," and the critically praised "Humming Hallelujah." Kristopher sustains his soulful exchange with an ardent substance that is uniquely his own.
Though he's lived in the Sunshine State, for most of his life, Kristopher's talent for melody and song (now) extend far past the state's line. Like his influencers Otis Redding, Amos Lee, and Roberta Flack, Kristopher's voice is clear, controlled, and full of all-the-feels. As with all artists, Kristopher's sound has ebbed and flowed, evolving yet remaining instantly recognizable. With the growth he's experienced as an artist, Kristopher felt it was time to capture his songs, in their fully-imagined sound, with his 2019 full-length release, "Kindness Never Quits". Featuring songs like "Too Soon, Too Late", "Didn't Mean To Fall in Love" and the sonic soulful wall of "We Ain't Never", hailed as "undoubtedly the best record of the year", by Creative Loafing Tampa.
Through 2020 & 2021, with humble allure, capacity and persistence, the Tampa Bay native put the communal angst and uncertainty, into supporting furloughed musicians and recording – releasing 2 lauded singles "Never Had To Find Our Way" (Ft. Max Brown of The War & Treaty & Kyshona Armstrong) & "Feelings" (Ft. Mike Hicks of Rascal Flatts), independently.
James takes perhaps his most profound steps, recognizing the fragility of life, in making this year one of intention and attention – Solidifying his path in a courteous stride of soulful southern R&B impressions, on stage: with rousing guitars, swoonful keys and in-pocket rhythms – as well as off stage: with sincere stories, and recognition of how important community is to our continued growth.