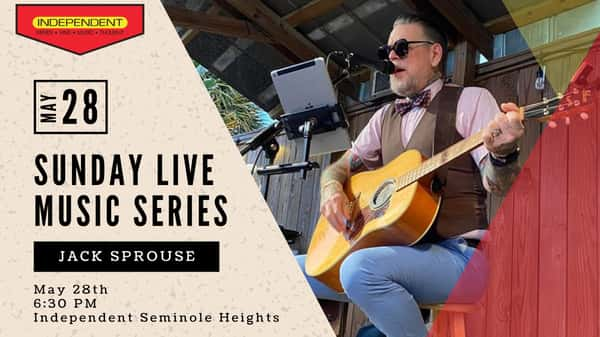 Sunday Live Music Series: Jack Sprouse
Join us Sunday, May 28th at 6:30pm for our weekly Sunday Live Music Series, this week featuring Jack Sprouse!

Jack Sprouse is a solo acoustic performer who plays an eclectic blend of Outlaw Country, Classic Country and Metal turned Country etc. Sprouse is also the frontman for Heavy Stoner Rock band Black Tides Roll. Starting in late Autumn 2014 he decided to go at it alone and play music which pulls at his heart strings. He immediately was able to pull together a string of gigs in the surrounding Central Florida area. After a few shows he noticed people warming right up to his brand of humor and classic Country covers and Metal/Punk songs turned Country. He turns heads with his warm and rich southern voice which is soaked in vintage tones. His style of covers is perfect to shed a tear in your beer or get riled up and raise some hell. Either way you won't be disappointed. Come out and see him, sit a spell and have a few beers.